Product technology and use:

Aluminum foil anticorrosion belt is a new type of external anticorrosion material with high self-adhesive and strong anti-ultraviolet ability. The base of the product is toughened aluminum foil sheet, rubber layer is made of butyl rubber modified asphalt, covered with a layer of anti-stick isolation film.

This product is mainly used in natural gas, petroleum, chemical, pharmaceutical, heat, urban construction of oil, gas, water, heating overhead pipeline or tower structure corrosion protection. The product is made of aluminum foil base material with unique reflection of sunlight and strong uv resistance and flexibility, smooth appearance and butyl rubber modified asphalt adhesive with high anticorrosion and strong adhesion. Solid aluminum foil anti-corrosion adhesive tape has waterproof, anti-aging, no curing, no cracking, no long-term movement, no stripping and other excellent characteristics, so as to achieve strong anti-corrosion ability, beautiful appearance effect, the product has been verified by practice is an excellent and beautiful anti-corrosion products.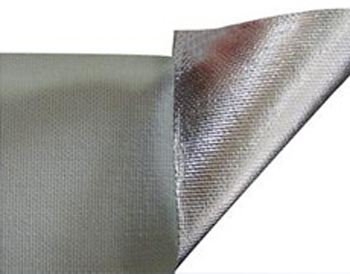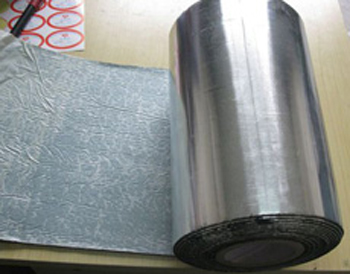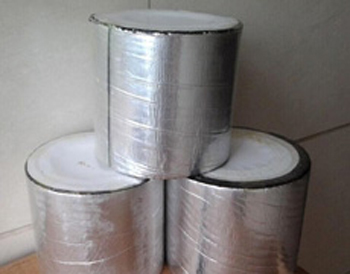 2. Performance indicators
Serial number

Project name

Unit

Parameter

1

Color appearance

—

Silvery white flash

2

Thickness of base film

mm

0.03-0.10

3

Bondline thickness

mm

0.60-2.00

4

Aggregate thickness

mm

0.63-2.10

5

Tensile strength

Mpa

≥100

6

Elongation at break

%

150

7

Sheering Properties

On the back

N/25mm

≥50 Or glue

Aluminum plate

The fracture

8

Stripping performance

N/25mm

≥40

9

Low tender degrees

(-10℃,20mm,3s,180o)

There is no crack

10

Heat resistance

(120℃)

non-slip

11

Dielectric strength

Mv/m

≥25

12

Volume resistivity

Ω.M

2×1010

13

Water vapor transmittance(24h)

Mg/cm

2 く0.45

14

Bibulous rate

%

≤0.35

15

Thermal resistance

℃

-34——+110
3. Usage:
(1), surface treatment: rust removal, welding slag, burr, oil, dirt and keep clean and dry, manual rust removal should reach St3 level, mechanical rust removal should reach Sa2 level, and meet the requirements of SYJ4007 86.
(2), primer: special primer should be used, away from the fire when used, stir evenly and clean brush, roller or other mechanical methods evenly coated, primer dosage: manual coated 12 / L mechanical coated 20 / L, (3), until the primer table dry 5-10 minutes can be wound.
(4) The operating temperature -5℃ - +50℃.
4. Transportation and storage:
(1) Prevent exposure to sunlight, rain, freezing and heat preservation, prevent crushing deformation, prohibit close to heat source and open fire.
(2) When transporting or storing, it shall be carried out in an environment of -20℃ to +35℃.
(3) The shelf life is 6 months.